What is community involvement? 
Community involvement is a mutually beneficial opportunity to help bring positive change to the community where your business operates, as well as to grow your brand's public reputation. This might involve creating partnerships with non-profits and student programs, volunteering, joining community boards, participating in events, or giving donations/services/resources to important local causes. 
Why community involvement? 
It's clear how local involvement benefits your community, but why should your company invest in these opportunities?
Giving back to your community not only builds strong consumer relationships but also helps fuel strong public-relation campaigns.
Local media outlets choose to explore human aspects of our community. While a new product may not gather the attention of your local newspaper, doing good within the community, certainly will. 
One thing that hasn't changed when it comes to business, is that building relationships with your target audience is incredibly crucial for success. Branding, marketing, and advertising all play a major role when it comes to making a strong impression and setting your brand apart from the competition. However, brand image goes even farther than an eye-catching logo. 
Now more than ever, customers opt for brands that have built a lasting connection with them. One substantial way to boost your business's awareness and public perception is to participate in community involvement.
Opportunities like hosting/sponsoring local programs, not only help your community, but also build a strong client base, and a positive brand image. Except, how does a business know which community involvement initiatives will be most effective at building their brand reputation? 
While social media can certainly be a great way for your business to connect with customers; most are being bombarded with digital marketing every day. This doesn't mean that social media marketing isn't worth your time, it just means that sometimes your brand's message can get lost in the sea of digital content. Even though businesses have a plethora of new technology to incorporate, ultimately, your business is still made up of very real people. You might think that consumers don't prioritize face-to-face experiences as much as they once did, but most customers still favour face-to-face interactions, and strong word-of-mouth recommendations, when it comes to making their buying decisions. So, it is very important not to neglect in-person interactions while incorporating behind-the-screen methods. 
You are not the only representation of your brand. Employees play a major role in the way your business is presented to customers, and that includes connections outside of work. Just as you wish to get your business involved in community initiatives, you can also support your staff to join community programs, non-profits, and networking opportunities, etc. Not only does this help to grow your community connections, but it also helps your staff to feel more fulfilled, incorporates teamwork and communication, and builds company culture and pride. 
If you hope to grow your brand's perception, you need to create positive memories with your client base. Of course, this means having positive sales experiences, but these memories don't have to be strictly business-related. By getting involved in the community, you can associate your brand with great events that leave a lasting impression. You can also encourage people to share these fun/positive memories online through content and custom hashtags to let other consumers see the depth of your business's involvement.
Consumers are no longer left in the dark when it comes to business. Customers have more information at their fingertips than ever, which means they want to be involved. Social media has opened up a two-way dialogue that has allowed the public to share their perception of brands (give reviews), ask questions, and also give their opinion. The best thing you can do for your brand is to be upfront and honest. You may not always be able to make every customer happy when it comes to business decisions, product changes, pricing, etc, but by being transparent with your decision process, consumers will feel like their opinion matters.
Community involvement is important for your brand perception, but your motivation for doing so shouldn't be selfish. While it will help your company's public relations, it's also a great opportunity to have a positive impact on your local community. This is a chance to reflect your brand's values, and participate in opportunities that mean something to you, and your team. Have a cause that is close to heart for you and your staff? Try incorporating that cause into your community involvement, to help combine marketing with and your own passion for helping others.
Joining community involvement shouldn't be one-sided. To truly help the community, you need to listen and engage with their feedback. If you want to make a difference and build strong relationships, then it's important that you truly listen to the community, evolve, and learn what their needs are.
Of course, your business can't say yes to every community opportunity. To find the areas where your help is most needed, check out the local municipality website, postings on social media, and even opportunities that arise in customers' conversations. Combining the causes you value the most, with areas that need your assistance will help build a perfect mutually beneficial relationship moving forward.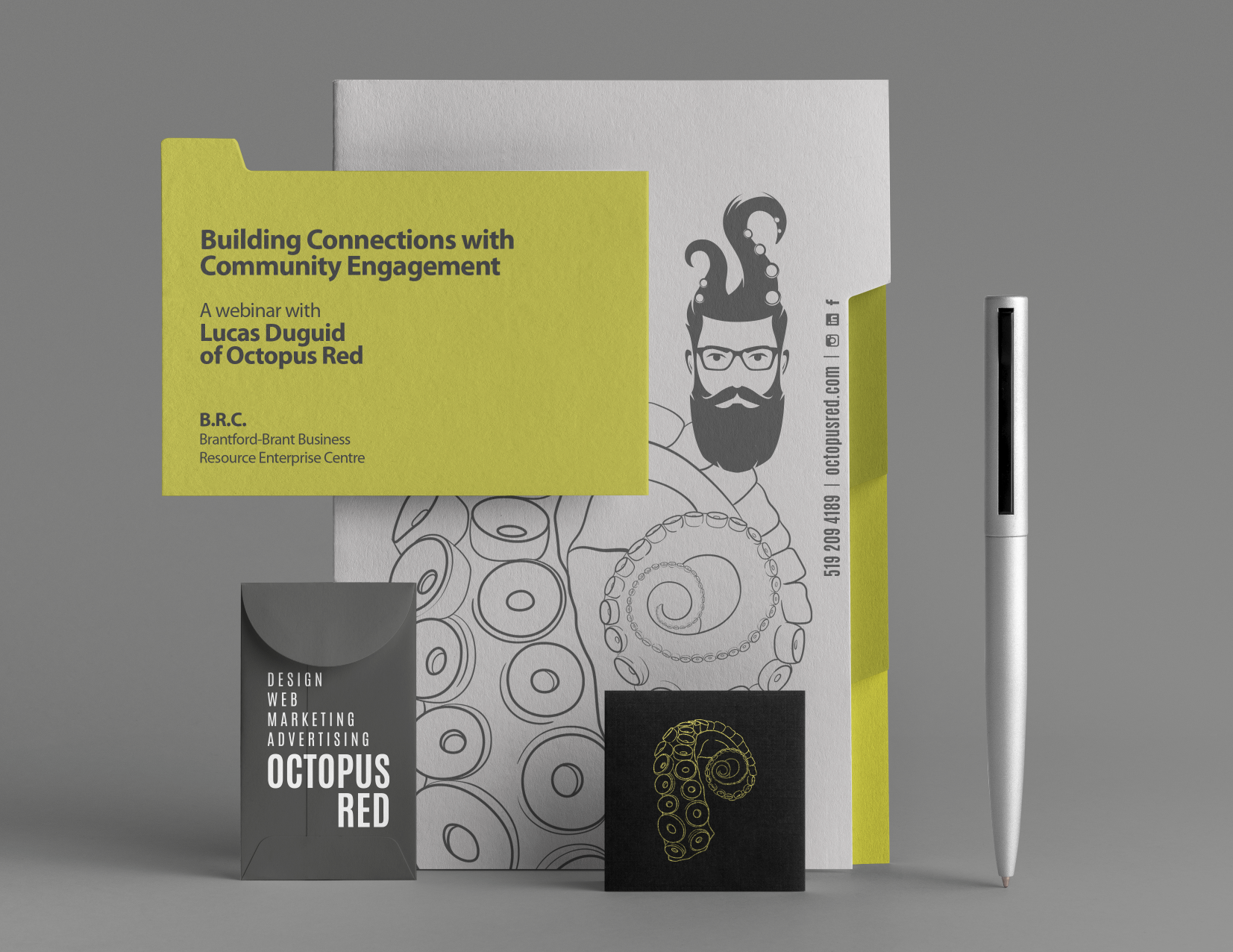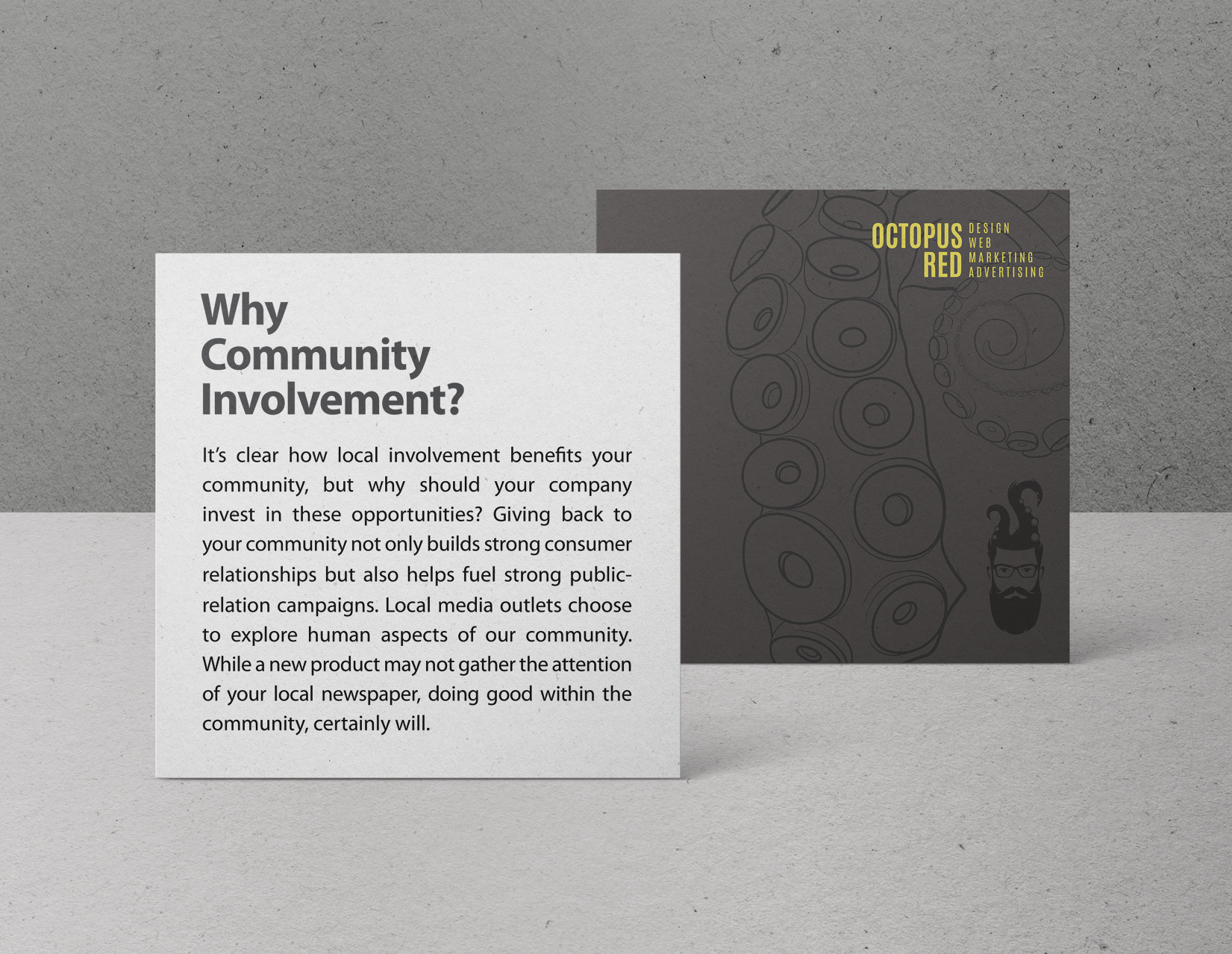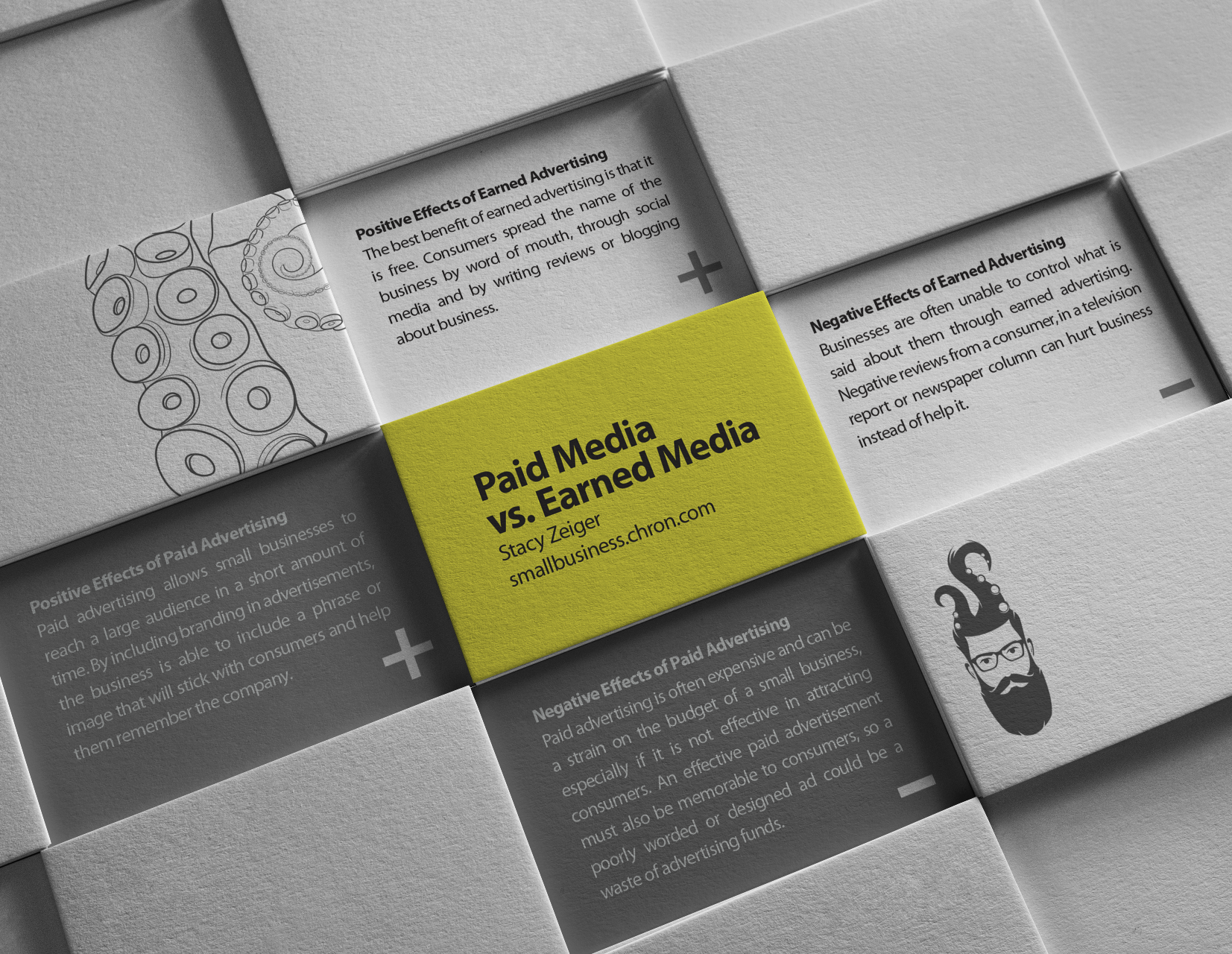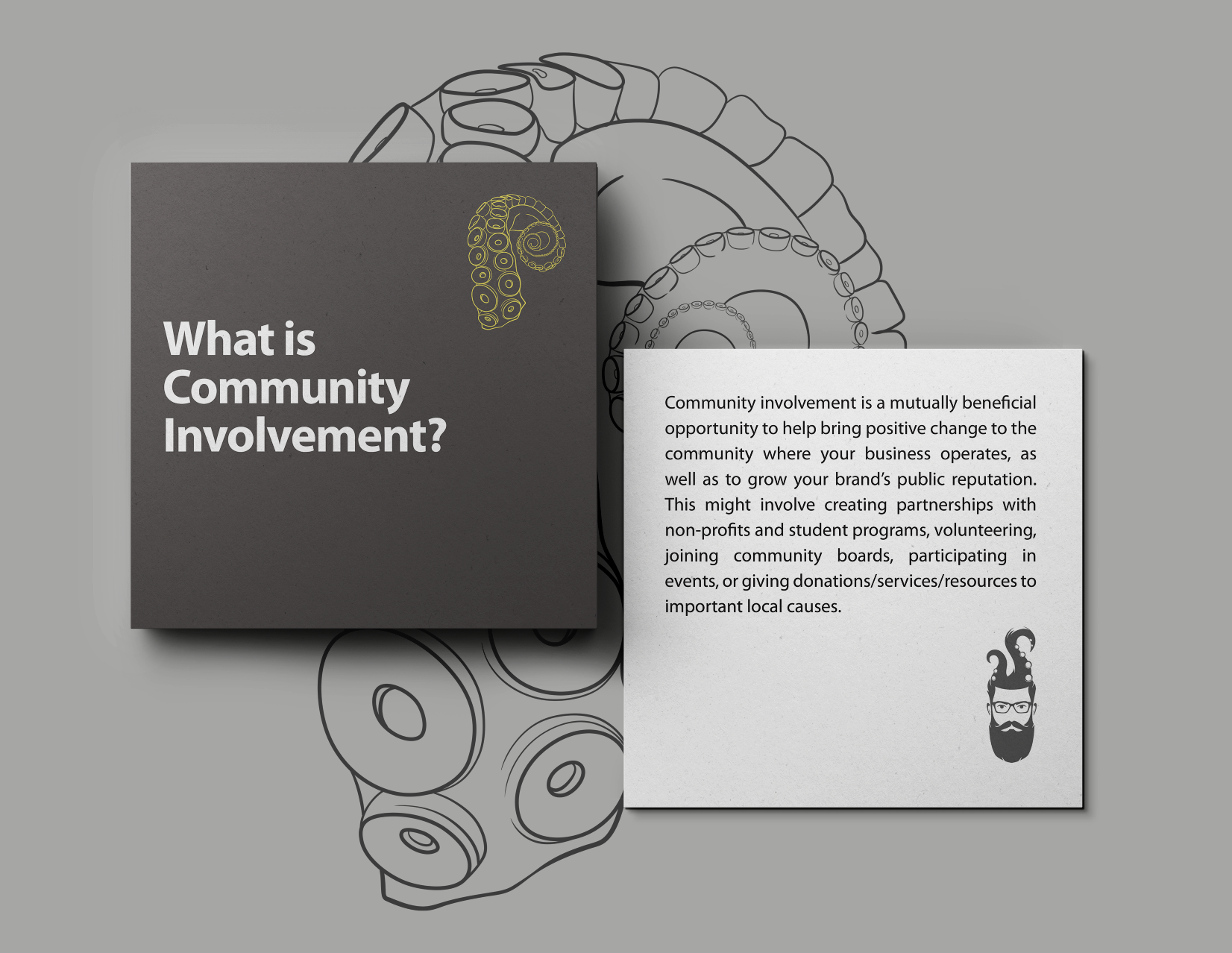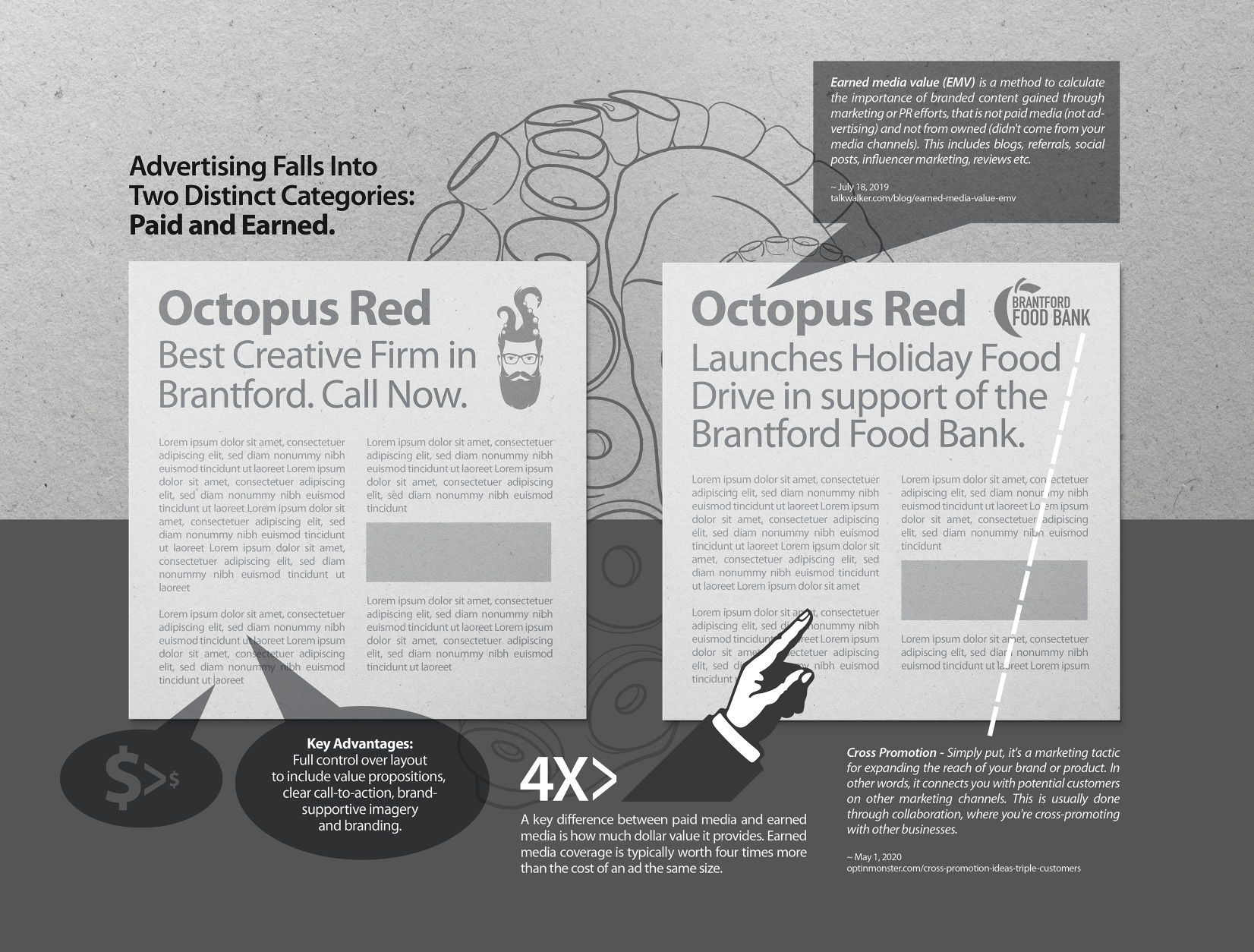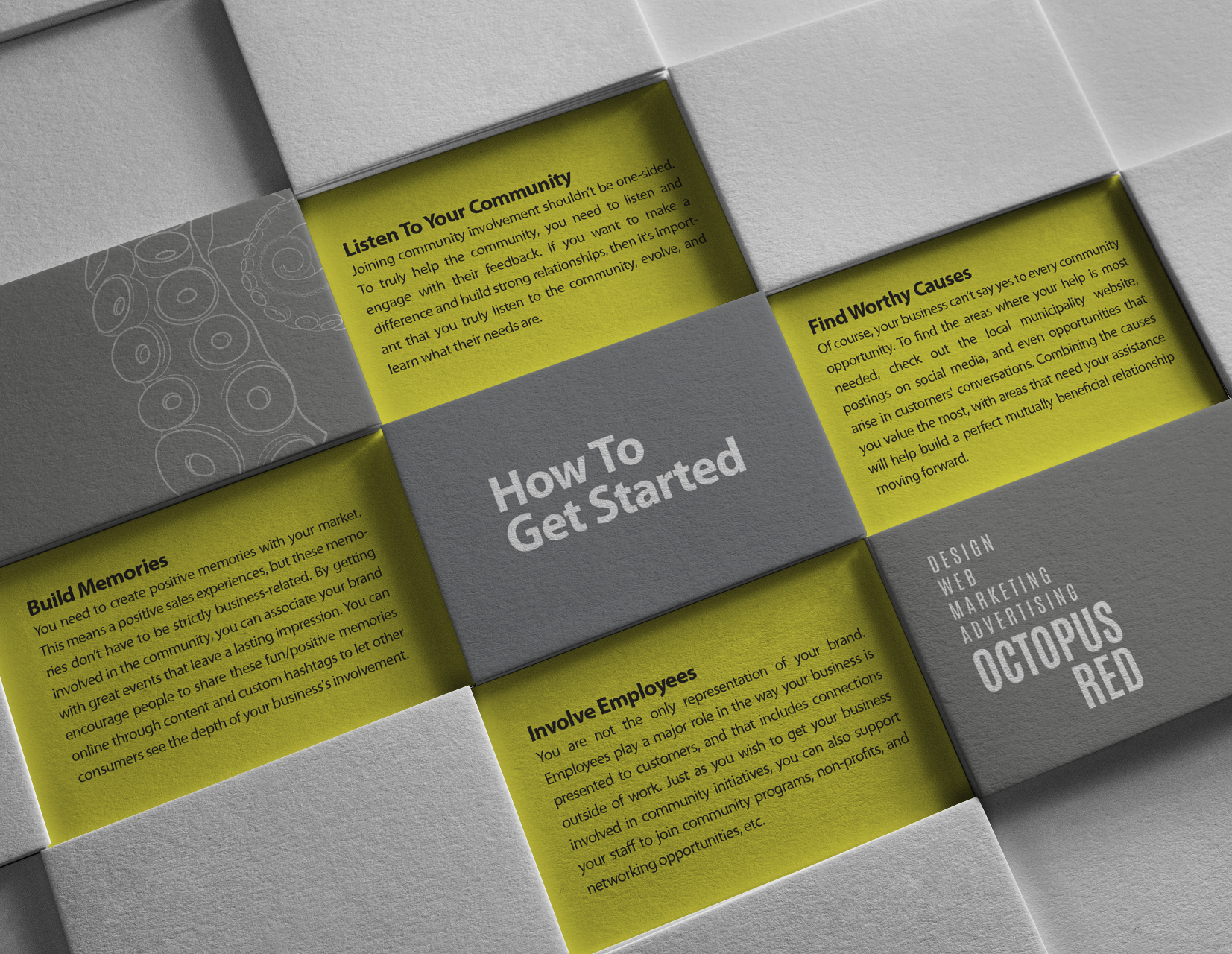 Often times the words logo and brand are used interchangeably when, in fact, they are two parts of the same entity. The logo is part of the overall brand. Arguably, the most important part of the brand with regards to brand awareness. In fact, we often refer to the logo as the hood emblem, the tip-of-the-sword of your brand.
In the vast majority of cases the logo is the consumer's first impression and visual touch-point of your brand. To say that the quality and clarity of a logo is largely responsible for that make-or-break first impression of a business, organization or project's brand is no exaggeration.
A logo is a key instrument in clarifying your brand positioning. Brand positioning refers to the place that a brand occupies in the mind of the general public and how it's differentiated from the products and services of the competition within an industry or field.
A strong, eye-catching, professionally designed logo with an accompanying brand standards guide ensures that not only is the first impression a fair reflection of the quality of a product, service and reputation… but there is a consistency every time a new advertising campaign to taken to market.
Not only does your logo have to look great, it has to work great. Having a logo that functions perfectly with one colour as it does full colour. A logo that can be silk screened or embroidered. A logo that looks great everywhere it lands, no matter the production process.